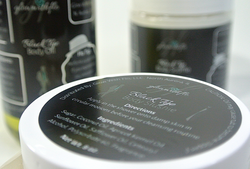 Glow With Flo
Black Tye Body Slushie
This powerhouse oil blend will leave your body with an ever-lasting glow and smooth skin, due to its exfoliating and moisturizing properties. 
Smells like: Subtle notes of Frankincense, Myrrh, Sandalwood, and Musk
Shelf Life: 1 year
Directions
In the shower on damp skin, take a generous amount and apply it onto the skin in circular motions, rinse and continue with your favorite body wash. After your shower, use our Black Tye Body Oil or Our Black Tye Body Soufflé for additional moisture.
Ingredients
Sugar, Coconut Oil, Apricot Kernel Oil, Safflower Oil, Sunflower Oil, Cetearyl Alcohol, Polysorbate 60, Fragrance
 Flo Tip
⚠️ Keep the product out of reach from water to avoid spoiling the product. This product is also manufactured in a place that contains soy and nuts. If you have any allergies, consult with your doctor before purchasing, but if you have an allergic reaction, please discontinue use!⚠️
**These statements have not been evaluated by the Food and Drug Administration. This product is not intended to diagnose, treat, cure, or prevent any disease.